What is an Emission Zone?
In recent years, UK, devolved and local governments have looked to introduce measures in order to improve air quality. One such measure available to local authorities is Emission Zones.
Known by various other names in some parts of the UK – including Low Emission Zones (LEZs) in Scotland, the Ultra-Low Emission Zone (ULEZ) in London or Clean Air Zones (CAZs) across other parts of England and Wales – Emission Zones are a defined area where targeted action can be taken to improve air quality, deliver health benefits and support economic growth.
Potential activities undertaken within an Emission Zone can include:
Optimising traffic management, such as changing road layouts to improve traffic flow and encourage active travel;
Ensuring local planning decisions take account of the Emission Zone and are consistent with air quality ambitions;
Monitoring of air quality and pollution levels within an Emission Zone;
Signage and publicity; and
Supporting the take-up of low pollutant emission vehicles.
Perhaps the strongest tool available to local authorities implementing an Emission Zone is the ability to enforce restrictions on motorists – including through charging schemes for higher emitting vehicles – to encourage the cleanest vehicles to operate within the Emission Zone boundary.
Who can be affected by Emission Zone traffic restrictions and charging zones?
In order to address associated pollutants from road traffic – in particular nitrogen oxides (NOx) and particulate matter – Emission Zones give local authorities the ability (under the Transport Act 2000) to introduce charging zones for particular categories of vehicles. Alternatively, in the absence of charging zones, Emission Zones can still be used to restrict access for certain categories of vehicles (ranging from Class A to D) considered to be contributors to urban air pollution.
Road signs will clearly indicate where any Emission Zone, LEZ or ULEZ is, what vehicles it applies to and if a charge is payable. Automatic number plate recognition (ANPR) cameras are then used to check vehicles entering the Emission Zone to ensure compliance.
Public transport, heavy goods vehicles and private hire vehicles
Due to being high-emitting or high-frequency transport within urban areas, vehicles such as buses, lorries, taxis and private hire vehicles are grouped together (Class A) and often subject to Emission Zone requirements.
Local authorities – as licensing authorities for public transport, taxis and private hire cars – often adopt non-charging measures to change driver behaviour, ahead of the introduction of Emission Zones and charging zones.
Personal cars
In terms of personal car use, Band D Emission Zones have the strictest measures, and can include restrictions on certain (but not all) private cars and possibly motorbikes. This means that drivers of older cars may be charged or face restricted access, depending upon the area and time of day of travel. Newer petrol and diesel cars – petrol cars first sold from January 2006 (Euro 4 standard) and diesel cars first sold from September 2015 (Euro 6) – are not restricted, and ultra-low emissions vehicles are not charged for entering or moving through an Emission Zone.
Local authorities are permitted to deviate from DEFRA Clean Air Zone guidance. For example, Bristol City Council has announced that it intends to introduce a Clean Air Zone that includes proposals for a blanket ban on private diesel vehicles at certain hours from the city centre. It should be noted that such a proposal does not fall under the aforementioned DEFRA vehicle "band A-D" system.
Examples of which vehicles are allowed access to various Emission Zones can be found here for LEZs in Scotland and the London ULEZ.
Local concessions may be made for motorists already living within a designated Emission Zone although this can vary by scheme. Emergency service vehicles and certain other categories of vehicle use are also exempt.
You can check to see if you will be charged to drive in a Clean Air Zone by entering your car registration details on this UK Government website. Drivers in London can check if they need to pay to enter the London Ultra Low Emission Zone by visiting the Transport for London (TfL) website.
Transport pollution in the UK
The move to introduce Emission Zones in the UK can be viewed in the context of overall pollutant emissions reductions over the last few decades, and although awareness of air pollution has risen considerably in recent years, in fact the UK's air quality is improving.
Since 1990 the UK has seen a general long-term decline in both urban and rural air pollution, with the number of days when air pollution was measured as moderate or high having fallen by 65% in urban areas and by 67.7% in rural areas between 2000 and 2017.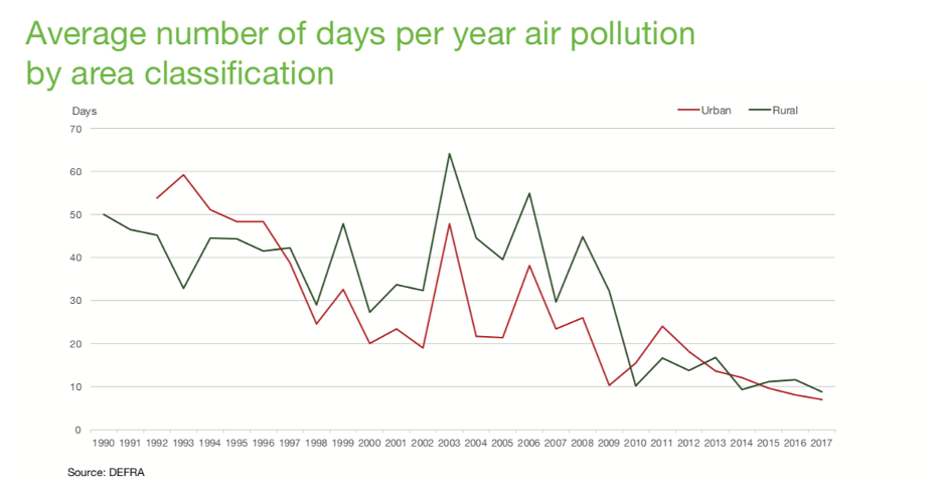 The transport sector has seen considerable declines since the beginning of the century, although road vehicles do continue to make up a significant proportion of transport NOx emissions compared to shipping, rail and aviation.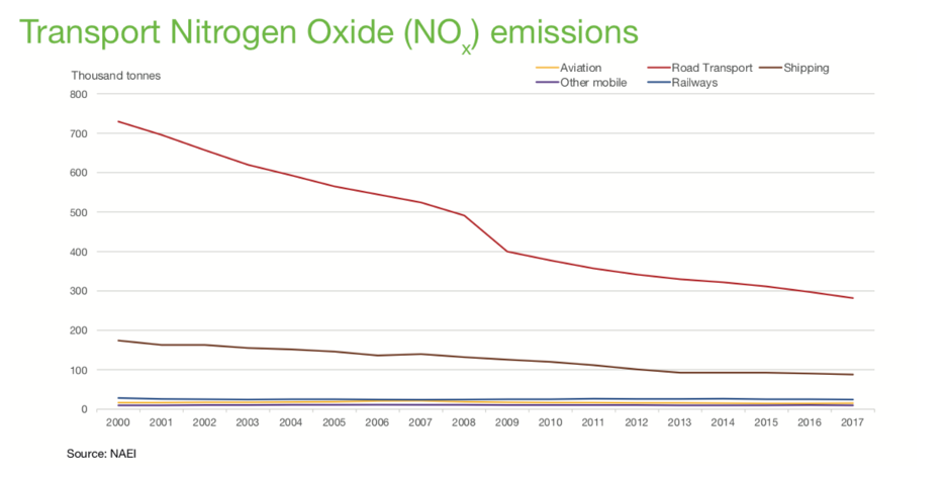 More details on UK air pollution and overall emissions reductions (of NOx and other compounds including sulphur and particulate matter are available in the UKPIA 2019 Statistical Review. The lead UK Department of State for ar quality is DEFRA, and we recommend further reading at the link below.
Further information
For more information on Emission Zones and air quality plans across the UK, please use the following links:
Note: Content on this page has been adapted from that jointly produced by the Road Transport Emissions Advice Group. This group brings government, industry and consumer groups together to help ensure motorists receive the clear and consistent messages on change to the road transport landscape.